Welcome to Emerald Coast Family Dentistry!
Family and Cosmetic Dentist in Pensacola, FL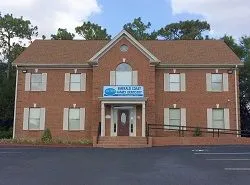 At Emerald Coast Family Dentistry, we strive to provide high-quality dental treatment with genuine care for our patients in Pensacola, Florida. Our goal is to create an environment in which patients feel comfortable and secure.

Dr. Jennifer Boudreaux Georgiades and her staff believe that patient education is the keystone to modern dentistry. Our dedication to patient education is why we offer you this informative, convenient website, which you can browse 24 hours a day, and also why we take the time to thoroughly discuss all treatment options with our patients in our Pensacola, FL office. We want to help you make informed decisions about your dental care.
Our Pensacola, FL location is experienced with every major aspect of dentistry, including general dental care, cosmetic dental procedures like tooth-colored composite fillings, crowns, bridges, and dental implant restorations, as well as implant dentures, removable partial dentures, extractions, implant crowns and root canal therapy.
In addition, we use digital radiography, which is fast, convenient, and requires less radiation than traditional x-rays. We can supply nitrous oxide gas for younger patients and those with dental anxiety.
Please allow our knowledgeable staff the opportunity to demonstrate to you how well we take care of our patients. Contact us for more information or schedule an appointment online.
We'll Provide You With That Winning Smile!
First Dental Visit
Find out exactly what to expect on your first visit to our office. We have created a comfortable environment in which you can feel confident about the dental care you receive. Read More...